Staff
Dr. Terry Cagle, Pastor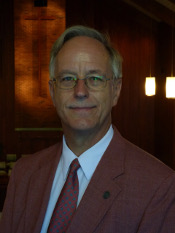 Terry has been an active pastor since 1982 and came to the Greenlawn congregation in January 2006. He received his Bachelor of Arts, with a concentration in Old Testament and Greek, from Gardner-Webb University; his Masters of Divinity Degree (Biblical Studies and Theology) from Southeastern Baptist Theological Seminary; and his Doctor of Ministry Degree from Gardner-Webb University where he served as an adjunct professor of Old Testament and New Testament from 1989 to 2006.
Rob Baggett, Minister of Music


Rob Baggett came to Greenlawn as music minister in May, 2006. He also serves as a guidance counselor at Blythewood Middle School, where he has worked since the school opened in 1996. Rob received his Bachelor of Music degree from Mississippi College, and holds a Master of Church Music degree from the Southern Baptist Theological Seminary. In 1993, he received his Educational Specialist degree in Counselor Education from the University of South Carolina. Rob is married to Teresa Nesmith Baggett, a pediatrician, and is the father of two grown children.
Debbie Rountree, Administrative Assistant/Financial Secretary
Debbie came to Greenlawn in June, 2016. She has lived in Columbia since 1980 and has been married to her husband, Tom, for 30 years.